NEWS FEED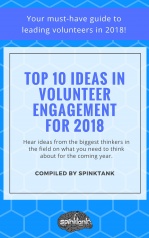 Published: 11/07/17
Are you a leader of volunteers? Erin is thrilled to be launching an ebook in December on the "Top 10 Ideas in Volunteer Engagement...

Published: 11/06/17
Anyone who leads volunteers, whether they are paid or volunteer, to add their voice. We welcome all kinds and sizes of organizations...
Published: 08/18/17
Read the full report and see what's in store for next steps.